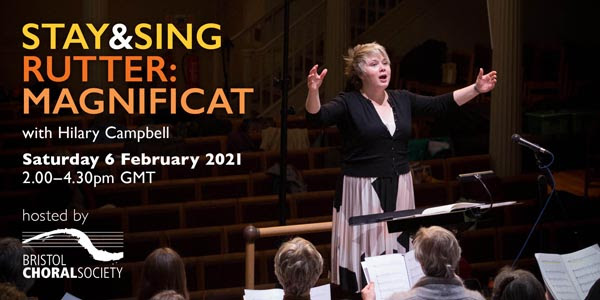 Bristol Choral Society is planning to start 2021 in good time-honoured fashion, with an open workshop event on February 6th, 14.00-16.30 (UK time). The only difference from other years is that the whole thing will be done online! So you are all invited to join us to sing extracts of the great Rutter Magnificat, for which the music will be made available before the day. Rutter's Magnificat is based on the biblical canticle in Latin and English. The magnificat formed part of both Catholic and Anglican services and Rutter's setting includes 'Of a Rose, a lovely Rose' (Movement number 2) an anonymous English poem. This music is both exciting and jolly. Hilary will prepare us with an entertaining warm up, take us through some of the movements and we will finish with a performance for ourselves.
This is a donation event, with a suggested minimum of £5 per ticket. And here is the link to sign up and sing with us:
https://www.eventbrite.co.uk/e/join-hilary-campbell-and-bristol-choral-for-john-rutters-magnificat-tickets-133766187267
Please keep the date in your calendars, and make sure that singing keeps getting us through the early months of this year!